Siemens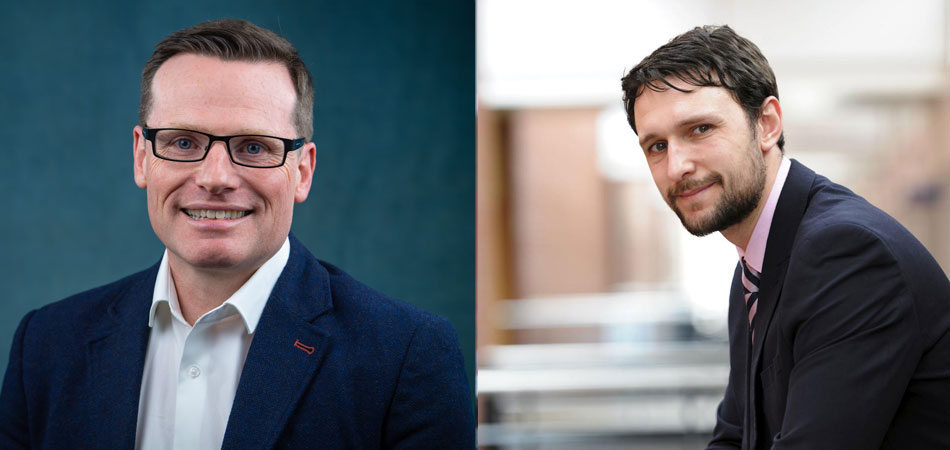 Since 2016 Teesside University's School of Computing, Engineering & Digital Technologies has enjoyed a successful multi-layered, multi-project, relationship with global technology company Siemens: with collaborations spanning across Siemens Digital Industries Software, Siemens UK Education, and Siemens Smart Infrastructure.
Fibersim
Challenge
To close the skills' gaps in composites engineering.
Solution
Associate Professor in Materials Engineering Dr David Hughes, has applied Siemens Digital Industries' Fibersim portfolio of software for composites engineering in teaching and research since 2019. Fibersim is now fully embedded in its aerospace engineering courses, the only UK university to do so.
With Fibersim, students learn how to create a digital twin of a composite part that links analysis, design and manufacturing – everything needed for composites engineering. The University also uses Siemens' NX software for product development and NX Nastran software for structural simulation, as part of a comprehensive instruction programme that includes practical hands-on projects and facilities for composite lay-up, manufacturing and testing.
Impact
As a result, Teesside has directly addressed skills shortages of people who can design in composites, has achieved exceptional engineering and aerospace student employability, and conducted research to help companies transition to composites from traditional materials.
Ross Caddens from Siemens, who is also a visiting professor in Cyber-Physical Design at the University, said: "Teesside University has been on our radar for a few years now. A colleague of mine first did some composites design and simulation work with David, and that was considered groundbreaking in terms of where we were at that time. It also enabled us to hear about what they were doing in adopting solutions to support engineers of the future, originally in mechanical engineering, but now moving into the Internet of Things (IoT).
The Industrial Digitalisation Technology Centre (IDTC) brings local SMEs together, showing business benefit and breaking down barriers, is very different to what we have seen elsewhere. Additionally they are looking at cyber-physical systems in construction, control systems and process industries – again, this is also refreshing to see, supporting adoption and driving value in sectors beyond mechanical engineering. They are also respected as a model of good practice in our Connected Curriculum steering group, which brings our partner universities together and supports learning from each other."
As part of the IDTC, Siemens won a tender to supply its industrial IoT solution MindSphere which supports operational decision-making. The platform offers Tees Valley SMEs free access to connectivity, data management, analysis and advanced analytics, and also involves development of digital twins and smart monitoring.
---
Connected Curriculum
Challenge
To integrate technology into the curriculum.
Solution
The University joined Siemens UK Education's Connected Curriculum, which aims to bring academia and industry together by integrating Siemens' and Festo's industry 4.0 technology into university curriculum, in February 2020. Connected Curriculum partners with 10 UK universities, supporting academic staff to tailor industrial hardware, software and learning materials to meet the needs of their students.
Impact
In Teesside's School of Computing, Engineering & Digital Technologies, the Siemens Connected Curriculum delivers industry-leading digital skills across all its engineering degree programmes.
---
Cyber-physical design expertise
Challenge
To embed cyber-physical design expertise.
Solution
From September 2021, in his three-year role as visiting professor, Ross Caddens from Siemens has supported the embedding of cyber-physical design thinking, which considers both the physical part and the computational part of a system into Teesside's engineering design courses. Bringing over 30 years' experience supporting industry improvement processes through digitalisation to Teesside, Ross's appointment is supported by a grant from the Royal Academy of Engineering.
Impact
This is an extension, upon request by the University, of the relationship created through Connected Curriculum. Ross said: "I am really enjoying working with Teesside University as a Visiting Professor, it gives Siemens a presence in the School of Computing, Engineering & Digital Technologies' courses, and in 2021-22 I have lectured or run labs in areas such as construction, digital control systems and additive manufacturing/3D printing. It brings opportunities to open up teaching, to think differently, and seeing the adoption of Siemens' Xcelerator portfolio, tools to work smarter, faster and more efficiently, is clearly one success factor. However, we are not too specific on outcomes, as this supports our overall approach to academia and giving back, inspiring entry level talent around digitalisation. I would definitely recommend Teesside University as a partner to business. David, as a character, is someone I was immediately drawn to because he is pragmatic and wants to get things done, but we have gone on to build good relationships with a number of course leaders and accessed their expertise. We want engagement to be as rich as possible."
---
Intelligent smart energy systems
Challenge
Professor in Control Engineering and Systems Informatics Dr Michael Short, who leads research activities within the University's Department of Engineering, has been engaging in collaborative research and innovation projects to develop tools for smart energy systems with Siemens Smart Infrastructure for five years.
Solution
Tools developed by Teesside researchers for supply/demand prediction, optimal control and economic dispatch of energy assets within an IoT-based energy management system have been adapted and integrated with Siemens commercial products to form an ICT solution for co-ordinated demand response for HVAC and Heat Pump systems in blocks of buildings within the €5.14 million DR-BOB (Demand Response in Blocks of Buildings) project.
Innovation work continued with the €15.64 million inteGRIDy (Integrated Smart GRID Cross-Functional Solutions for Optimized Synergetic Energy Distribution, Utilization Storage Technologies) project, which again saw a collaboration between Teesside University and Siemens to integrate cutting-edge technologies, solutions and mechanisms in a scalable cross-functional platform for optimal and dynamic operation of the wider distribution grid.
Impact
The application of the tools developed in the projects resulted in 15-23% reductions in electricity bills across multiple pilot sites and reductions of up to 37% in electricity demand peaks, with CO2 savings of similar percentages recorded.